_,,,^..^,,,_ presents Escape from New York [spoRv] – special preserved or Restored version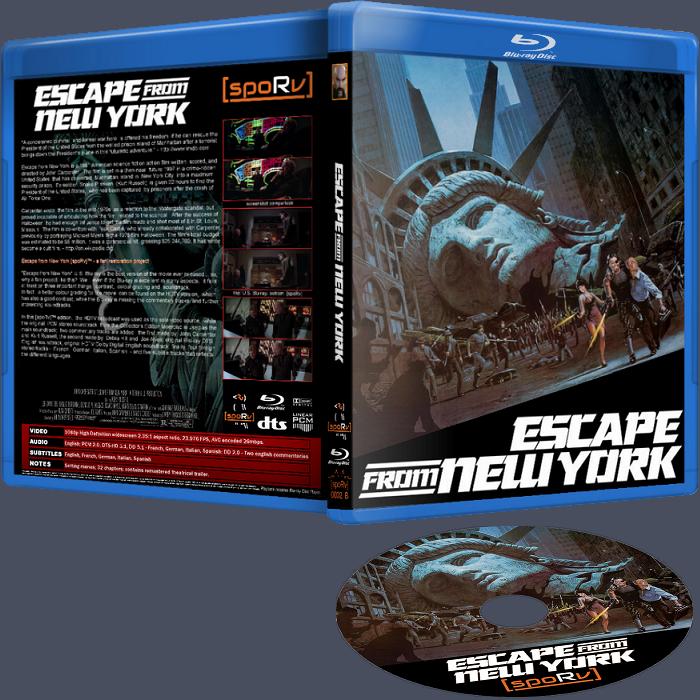 | PROJECTS: Released | In progress | Future | Mission & Setup |

Mission: to restore John Carpenter's Escape from New York brightness, contrast and color grading, plus original soundtrack and commentary.
Video sources: HDTV broadcast.
Audio sources: uncompressed PCM original soundtrack, captured directly from Collector's Edition laserdisc, along with commentary; other soundtracks from BD and DVD.
Subtitles sources: to reflect soundtracks.
Project info:
Personally, "Escape from New York" is one of my favourite movies; after I discovered that the EU Blu-ray is really bad, and the US Blu-ray is very dark, I began to search a better alternative; I found that the HDTV version broadcasted by HDNet is maybe the best compromise. The HDTV will be used as video source.
Plus, the Collector's Edition laserdisc will be used to add the original soundtrack and the commentary.
Source Material

Video:
Escape from New York – HDTV HDNet
Audio:
Subtitles:
English, French, German, Italian, Spanish.
Final format: BD-25
Video:
x264 1920×1080, 23.976fps, 26mbps
Audio:
English DTS-HD MA 1509kbps 5.1 16bit 48kHz – from Blu-ray
English AC3 384kbps 5.1 16bit 48kHz – from HDTV
English PCM 1536kbps 2.0 16bit 48kHz Dolby Surround – from PCM LD
French AC3 192kbps 2.0 16bit 48kHz Dolby Surround – from DVD
German AC3 192kbps 2.0 16bit 48kHz Dolby Surround – from PCM LD
Italian AC3 192kbps 2.0 16bit 48kHz Dolby Surround – from DVD
Spanish AC3 192kbps 2.0 16bit 48kHz Dolby Surround – from DVD
English AC3 192kbps 2.0 16bit 48kHz commentary – from DVD; originally from LD
English AC3 192kbps 2.0 16bit 48kHz commentary – from DVD
Subtitles:
English
French
German
Italian
Spanish
Notes:
Main animated menu, static soundtrack and subtitle settings menu, static chapters menu
Blu-ray custom made outside and inside covers, plus disc label; 32 chapters; restored theatrical trailer
Tested on Playstation 3 (two different models)
"Partner in crime":
TheAluminumFalcon to provide me .torrent link for a video source
Stamper for the french soundtrack and the english, french and spanish subs
anonymous for the english and german laserdisc soundtracks
CatBus, for help with subtitles
Additional credits:
THE LAST JOHNY ON THE LEFT for the animated video used for BD menu